{... About a Million To GO}
Is it a journal? Is it a photo album? No it's both - via
BLURB
If you want to give you and yours a great little present make your blog into a book. It really is a treasure. You will love to see your families name in print! I especially love the hardback covered with a dust jacket. It's just so... cute! The print quality of the photos isn't the best and there are still lots of pictures to document, so I will have to do some scrapbooking for last year still. But, if I never get around to it, oh well becasue I, at least, have this!

This is my book from 2008. All our memories poured out into 78 pages. For this year I may have my kids and Cameron write down some of what they're thinking and incorporate that too. It'd be nice to have some more perspectives. But for now I love looking at my little book and the rest of the family does too.


And checking off one more thing off my to-do list feels WONDERFUL!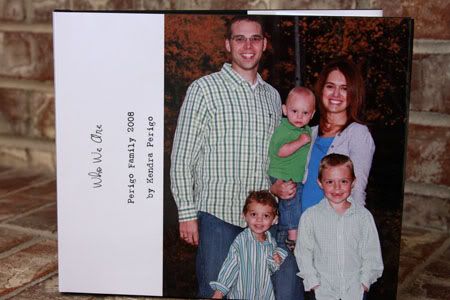 P.S. We find out where our new home will be on April 10. So stay tuned!