Landon turned
EIGHT!
I can't believe it. Where have the years gone?... It seems like yesterday... cliche? Yes. But still... How'd my little boy grow up so fast?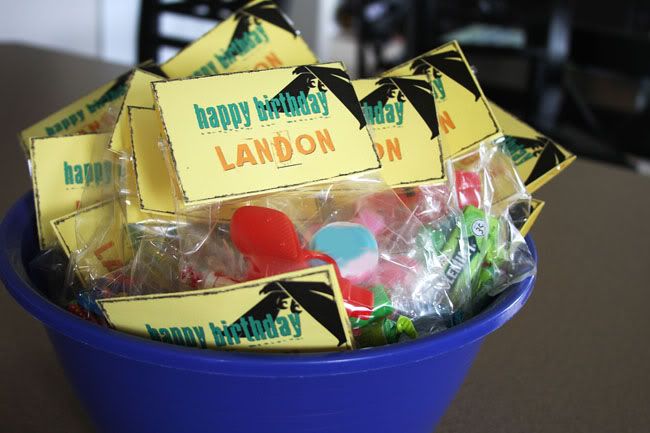 As always we celebrated for DAYS!! (and we still have a pool party with friends, coming up after Memorial Day). We started the festivities with treats at school. Landon wanted a Falcon birthday. He's really into birds lately; watching them, reading books about them, guessing what kind they are when he sees them. It started during Air Force Academy Football - the trained Falcons put on an AWESOME half-time show. Then my mom got us a bird feeder for Christmas - the boys, especially Landon, have loved watching the birds outside our window. His love of birds was solidified when we watched the Bird episode of Life on Discovery - very cool, birds are. So, anyway, he wanted his party to be falcon-themed.
pretend it doesn't look like their heads are growing out of the flowers!! Cameron brought them home from work for me - love that guy! - the other day and I didn't move them for the picture .
My mom drove down for Landon's little family birthday party. She got him an awesome collectible book about Legos - seriously awesome - it combined two of Landon's favorite things: Legos and Reading. He's been taking to school with him and reading it before and after school since she gave it to him. He's also been looking for the lego sets he wants on Ebay & Amazon so he can use the money G&G Perigo sent.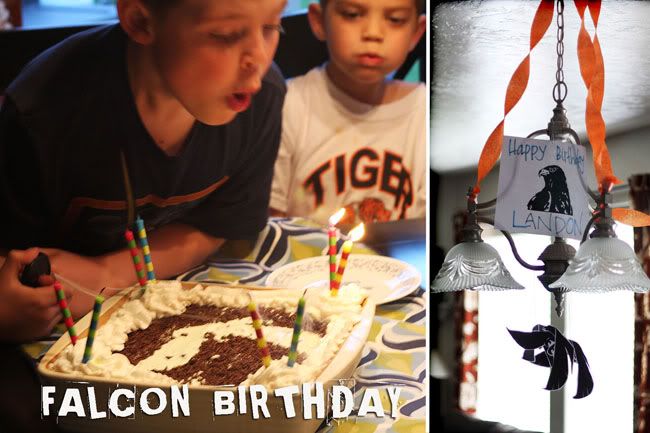 Landon wanted Concrete Mud Pie - the kind from Wingers. Hmm... how to make a falcon-themed mud pie? I did my best I tell ya. It tasted good.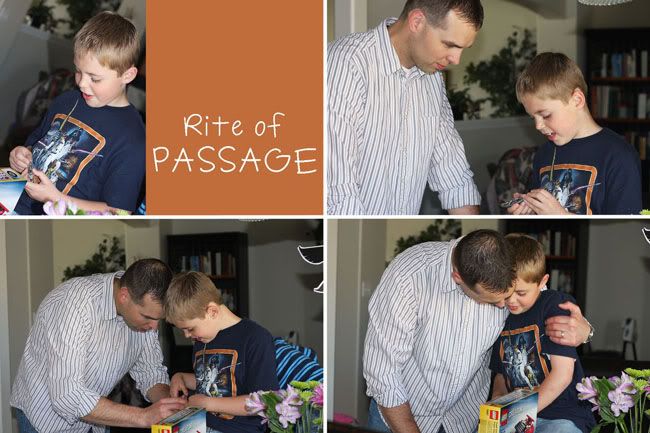 Cameron got Landon a pocket knife to use for scouts and camping and because "it's time for him to have a knife". Should have seen them... so that's what they mean by "male bonding"!
The next day, after my mom went back home to Utah, Cameron took off work and Landon stayed home from school so we could go to the Birds of Prey Conservation Center in Boise. It was really cool. They were just opening a Condor display so that was neat to be among the first to see them. (They're HUGE, by the way)
We ended his birthday at Fudruckers - his favorite spot for dinner. A Good, Happy Birthday.
-
Lando-Comando, you are one cool kid. The older you get the funner you are to have around. You talk about silly things but you also want to have serious talks too. You help me out. You take care of your brothers. You're good about turning off the wii when your times up. You can be bribed with any kind of sweet treat. You still won't touch veggies most of the time - except cucumbers and carrots with ranch and broccoli with vinegar. You impress me by how easily you can accomplish what you want to do. All you have to do is decide you want to do it and you get it done, even if you have to work hard to do it. I love watching you play sports. This past month has been so busy with baseball but it's worth it, to watch you slide into home base with such determination in your eyes. I love ya dude.