We spent the 19-23 in Utah celebrating Christmas a little early.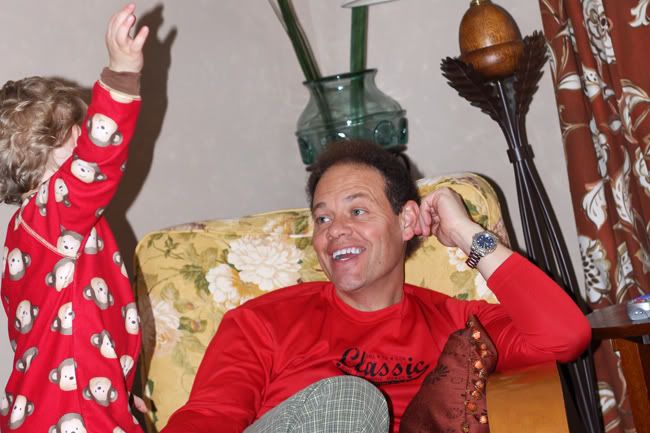 Smedley Christmas highlights: dinner at Grandma Meier's . taking the Frontrunner to SLC and spending the day at the Gateway: shopping, California Kitchen Pizza, A Christmas Carol with FOUR huge buckets of popcorn . the lights at Temple Square . the presents that never ended - Mom handed presents out to each of us at random times throughout our trip (stuff we all loved!) . salmon for dinner, just because Landon loves it . footrubs and silly songs at bedtime from Grandma . Dominos with Grandpa . Coloring with Jared and Stephanie (not the kids :) ) . playing Harry Potter (or
something
) with Alina
Perigo Christmas highlights: Pork Tenderloin - Sharlene's specialty . cousin gift exchange . going through TONS of baby clothes hand me downs . all the cousins building a fort together in the basement . playing christmas songs with chimes . great Christmas presents from Gary and Sharlene . inheriting a snowmobile . watching a few home movies . breakfast - waffles, eggs, bacon - another specialty . playing Go Fish with Grandma and playing again with Grandpa . a four hour nap for the youngest boy . talking and talking . Landon and Jantz playing with their presents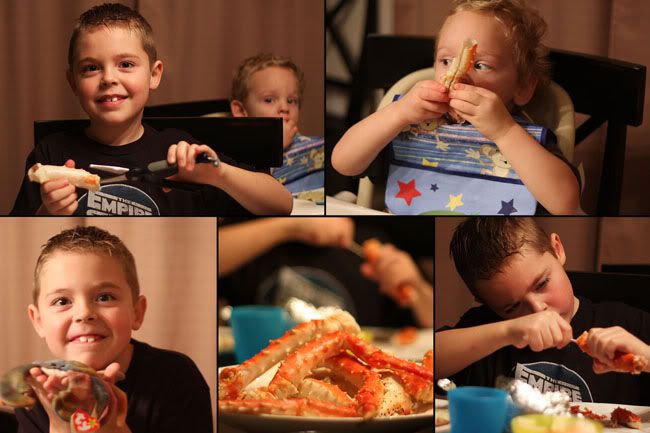 Cameron was on call starting Christmas Eve so we came home and gave ourselves a nice little quiet Christmas. We had so much fun in Utah we were worn out and we all came home with *BAD* colds. (Of course Cameron and I have it the worst, in fact I went to bed after we opened presents on Christmas morning and pretty much haven't been out since... I think I'm on the mend, though)
Christmas Eve was nice. We HAD to have our traditional crab dinner. The kids loved it. Landon forgot that crab does not taste like salmon, but once he got passed that he said it was the best thing to eat, "ever". Isaac wanted to open his own crab leg too so we cut it open for him and he chewed the "chicken" out of it.
We frosted cookies for santa. Read Luke 2. Watched the Nativity movie. Gave the kids their P.J.'s. Tucked them in and wrapped the rest of the presents.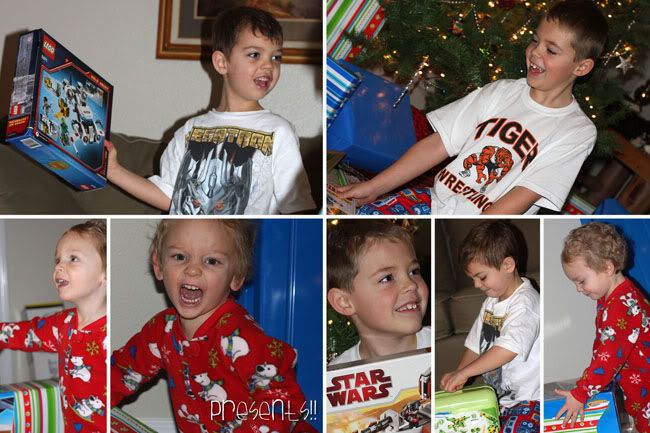 Christmas morning was quiet and fun. We opened presents, ate breakfast, and played around. Landon and Austin took their stash to their rooms so Isaac wouldn't bother them, Cameron hung out with Isaac building the Playmobile set he got, and I went back to bed. We spent the rest of the day playing Wii, watching movies, and playing with the toys the kids got. We talked about going to Boise to dinner or a movie or both but no one really felt that great so I mustered up enough energy to cook a turkey and potatoes (that was it: just turkey, potatoes, and a can of green beans - not the best Christmas dinner but at least it was something - well, actually I did make a chocolate oreo pie too; does that make up for a lame dinner?)
Anyway, the kids were happy and that is what it is all about.