This is my brother, Jared, and his wife, Stephanie...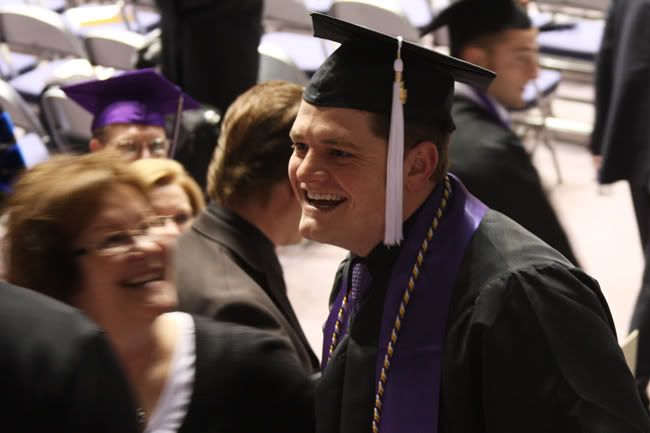 He graduated from Weber State University on Friday (a major in Spanish and 3 minors: art, zoology
, and
chemistry - overachiever ;) ) He's going to Michigan State for Medical School in the fall. He's a cool kid - I've always been a little jealous of him - he's hillarious, can pretty much do anything he puts his mind to, has a lot of fun in life - Austin reminds me of him so much...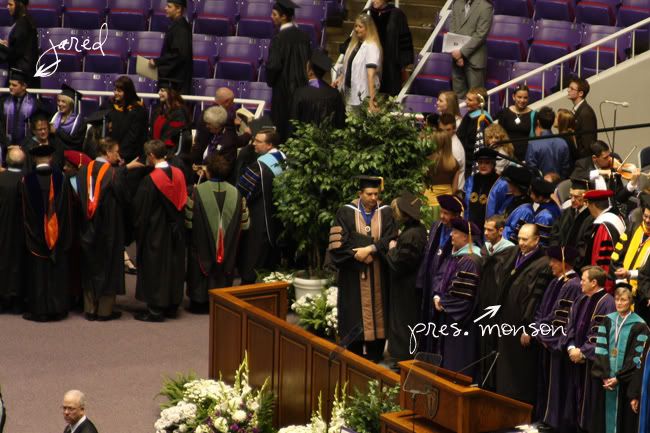 Because he's such a cool guy he was the student body vice president at Weber this year. Because he was an officer he got to sit just feet away from President Thomas S Monson (president of the LDS church, our prophet).
I took these pictures from the very top of the Dee Events Center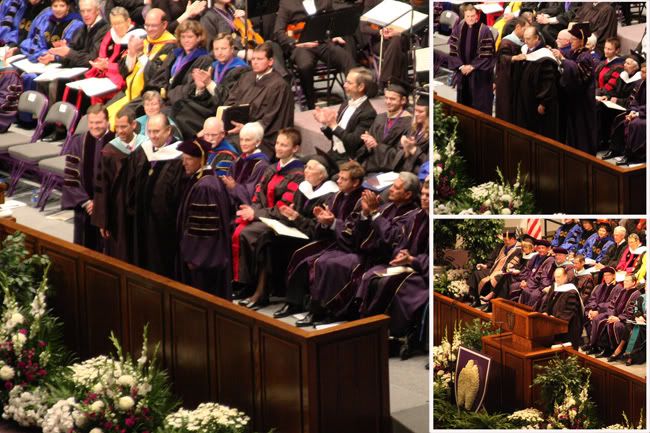 President Monson was there to recieve an honory degree and deliver the key note speech. He talked about the "ABC"s of life: A for attitude, B for beliefs, and C for... not sure because by the time that came along I was only paying attention to keeping Austin quiet with a few games of tic tac toe
Once it was over we walked down to congratulate Jared. He was handing out medals to distinguished guests. Austin went down onto the floor with my dad. Before I could get my camera out Austin was high-fiving President Uchtdorf. Man, I could have gotten a great picture! Too bad! Austin was so happy. He came back to tell us and Landon got a little sad he missed out. Jared saved the day. He took both boys into the middle of the crowd assembled around President Monson. Jared had already met President Monson so he said, "President Monson my nephews would really like to meet you." President Monson looked at the boys and said, "well boys, take your hands out of your pockets and give me a high five!"
These pictures are as close as I could get. The entrance was blocked off to everyone except "VIP"s. When Jared took the kids down they tried to stop Landon. Jared said, "they're with me." The usher, "Oh they're graduating with you?" Jared, "yeah. come on Landon."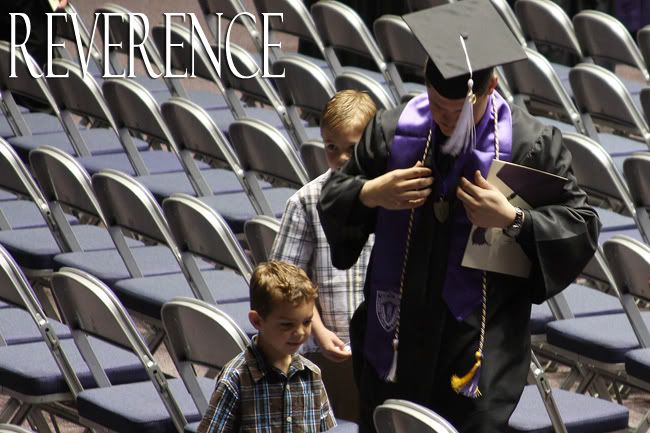 They came back with big eyes and big smiles. Happy and excited. A little reverent too. It was special for them. A once in a lifetime opportunity. How many people can say they've given the prophet a high five?!