*Flonase and Zyrtec - Landon's allergies are WAY worse here
*the smell of the air at night - the smell of fall - I love it!
*lots of weekend projects. I finally got Landon's Star Wars pillow made. First time I've sewn a pillow - and the piping. I only had to rip the thing apart once.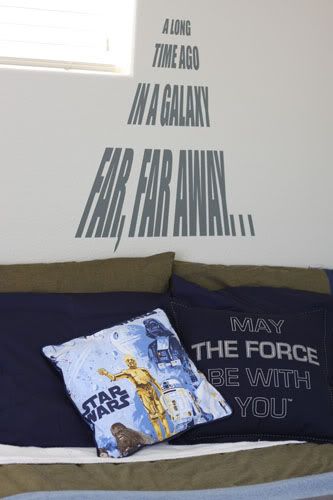 * the flies and mosquitos are mostly gone!! That is a huge plus for me. Still dealing with spiders but hopefully the winter will take care of them.
*we have soccer 4 nights a week plus 2 games on Saturdays
*"good" TV finally comes back on - after the kids go to bed we watch our recorded Grey's, Private Practice, Cougar Town, Modern Family, Dancing with the Stars, Brothers and Sisters - OKAY, so
I
watch those shows and Cameron is forced to endure them (I think he gets into them though!). He loves college football season so I'm forced to endure that on weekends (and I don't get into that except to see who won - that's all that really matters to me).
*Creamy Vegetable Soup becomes our favorite family dinner - you HAVE to try it; even the kids love it. Here's the recipe:
1 turnip peeled and quartered
4 medium potatoes peeled and cubed
2 carrots peeled and cut in chunks
2 celery ribs cut in chunks
1 small onion peeled and cut in chunks
1 medium tomato cut in chunks
2 14 oz cans chicken broth
1 chicken broth can water
salt/pepper
Italian seasoning to taste
dash tabasco sauce
1 tsp dried rosemary
sour cream for garnish
Put all vegetables in pot with chicken broth, water and seasonings. Bring to boil. Reduce heat and simmer 45 minutes stirring occasionally. Do NOT drain. Put all soup in blender (you may have to do this in batches). Blend until thick and creamy. Serve with a dallop of sour cream. (my kids love it with club crackers to dip in it too.)
*Spending an ENTIRE day going through drawers and hand me down boxes to pull out fall/winter clothes and put away too small summer clothes.
*Enjoying the last days of warm weather - actually, I think the warmth is gone for good now. But this was two weeks ago when Cameron took the boys on a "hike" after soccer one day and I went home with Isaac for naps. Not quite the hiking experience Colorado Springs was but fun for the kids anyway. Landon's highlight was finding a broken arrow and Austin is just happy as can be to be outside.
*Fall cleaning - I think I do more cleaning out in fall than spring. I don't know why; getting ready to hibernate for winter? You'd think we'd be all organized and cleaned out since we just moved. But we're not. Getting there though. I've got a huge Goodwill pile and Cameron's planning on building shelves for our garage this weekend.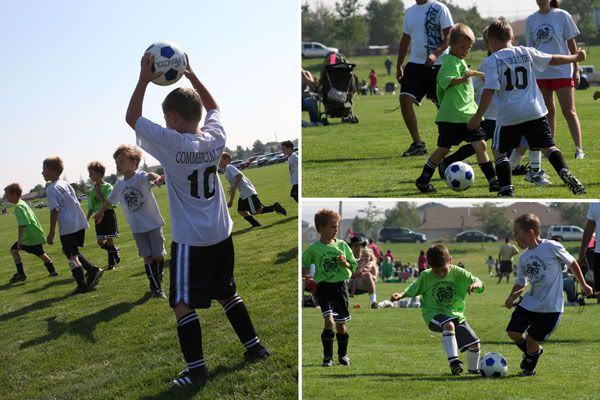 *Did I mention soccer 4 nights a week?
*visiting pumpkin patches - we have plans to go on Monday... can't wait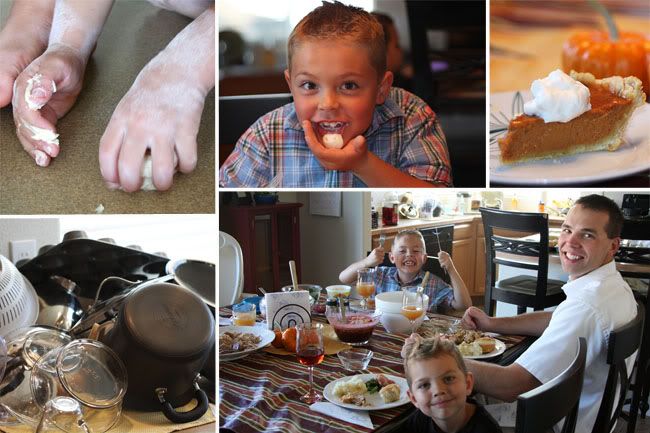 *Our "Fall Feast". This is really the big Kick Off to fall that we do the Sunday after the first "official" day of Fall. Our friends, the Conlins, introduced us to this and we love it. This year instead of a roast and potatoes we did a mini-Thanksgiving dinner (I still have a severe red meat aversion for some reason). I really shouldn't say "mini" because our dinner might as well have been Thanksgiving. I made my grandma's carrot-sage stuffing, pumpkin pie with homemade crust -a first for me, Lion House rolls - the kids helped with those, and all the other Thanksgiving sides; the only difference, really, was that I cooked a turkey roast instead of a whole turkey. And just so the kids can remember all I do for them there's a picture of SOME of the dishes that DIDN'T fit in the dishwasher!! (5 hours of cooking + 1 hour of dishes + 1/2 hour of cleaning up spilled flour from the kids "help" with the rolls =20 minutes of eating and a great family tradition with lots of memories)
*Wearing jeans again. AND hiding Austin's shorts so I don't have to fight with him about wearing pants. AND waiting for Austin to go outside and "make sure" it's really cold and there really is frost on the roof before he'll agree to wear his coat.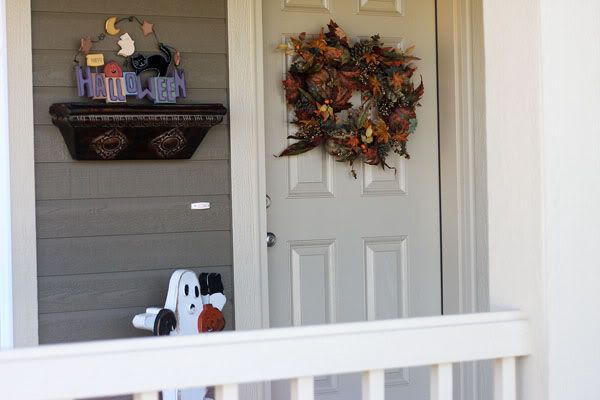 *Holiday decorating. This is the best time of year for decorations, I think.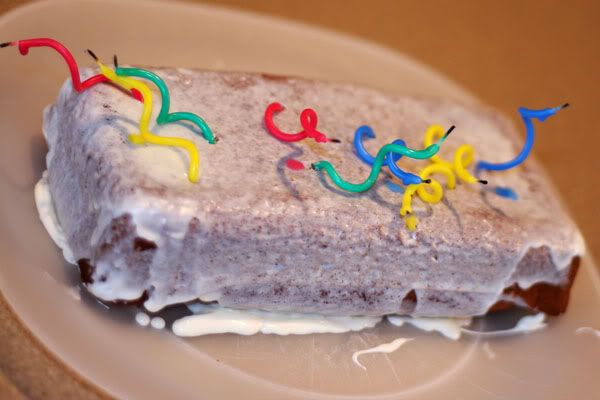 *Cameron's and my anniversary. It's on October 4th. This year we were in Utah for Conference weekend. So Monday I made him blow out 9 candles on our pumpkin bread. We celebrated with the kids - but we DO have a babysitter for tomorrow night so we'll see where we end up to officially celebrate 9 great years together.
We did finally get Cameron the truck he's been wanting forEVER. We'll call that our anniversary present to eachother! Actually, I'm glad he finally got it. He deserves it.
*honey crisp apples become a staple in our fridge. We were introduced to these in Iowa and although nothing will compare to Wilson's Apple Orchard these are the absolute best apples. Well to be honest Song of September apples are the best (they taste like apple cider!) but I've only seen them at Wilson's.

*Making something with pumpkin at least once a week. Pumpkin chocolate chip cookies are always my favorite but if you want to try something a little different and oh so good try this: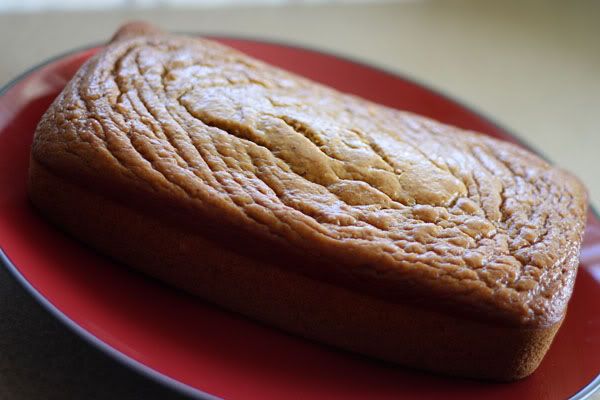 Pumpkin Gingerbread from
allrecipes.com

The only change I made was 2 C sugar, 1/2 C oil, 1 C applesauce - yummy yummy
*buying new clothes - more of a challenge this year because I have to go to Boise. It's an hour and half just for the driving time. Fitting that into school and nap schedules is a little crazy but I'm getting the hang of it. If only, Landon's jeans I just bought fit I wouldn't have to go again for a while.


*hot chocolate becomes part of our daily routine. Landon and I drink it every morning and sometimes I drink it before bed too. In fact, I think I might go get some right now!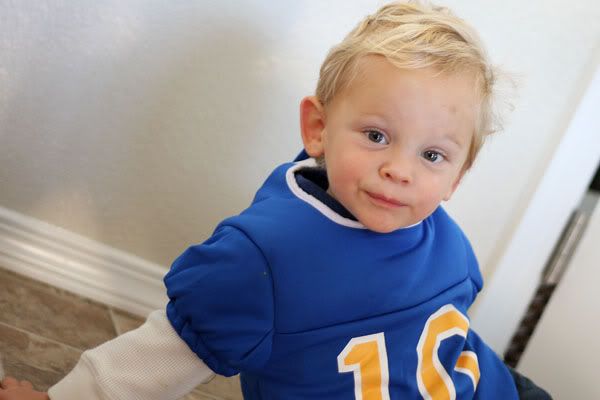 *halloween costume shopping and the kids wanting to wear their costumes ALL the time. Usually, I make them wait until Halloween because I don't want them ruined but this year I figured who really cares? At least we're getting some use out of them. Isaac asks to wear his football player costume everyday and won't even take it off for naps. I finally hid it away because it really is getting ruined - and it was just annoying putting it on and taking it off all the time. He loves it though. He runs around screaming, "TOUCH DOWN!"


Fall has always been a great time of year for me. I just love it. I'm missing the leaves changing colors, though (look at the hiking pictures - no trees!!). But other than that this time of year could last forever!