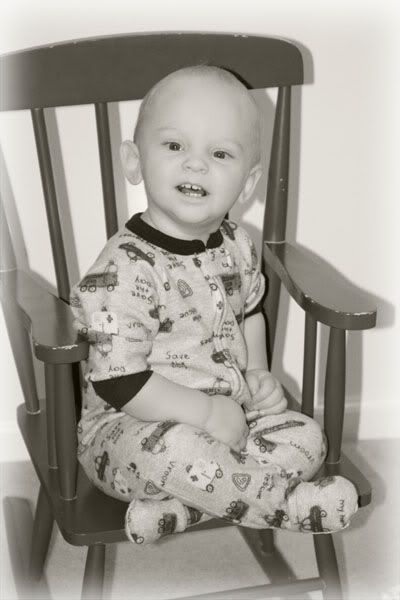 This is my boy!! The smile on his face is there 99% of his waking hours. He is happy about life; really just content with everything. The stage he's in right now is my FAVORITE! He's learning new tricks everyday. Recently, he has learned to
wave bye-bye, blow kisses, play peek-a-boo, point to his head and nose, point to someone elses nose, say "da-sta" -downstairs, "cac" -catch - as in playing a game of catch, "ba" - ball, "mmmm" -mmm delicious food (my interpretation!), "d" - drink, "bmmm"-blanket, "na-na" - goodnight, "kissss" - kiss.
Zacky has also learned how to pick up his toys - he puts them back in the basket when he's told. He LOVES to go to bed - when he's tired he asks to be picked up and says "bmmm" into my shoulder, we go get his blanket and he snuggles right into it, ready for bed. His favorite toys, by a long shot, are balls but he's recently developed a fondness for big trucks he can push around. He really likes little trinkets that fit in his fists; anything tiny is definitely in his radar. He loves to look at books but I still can't get through a whole book without him wanting to jump on my lap or get down and play. This kid is the most pleasent little boy to be around. I just love him!
His most favorite new trick is learning to walk. He took his first steps last week. Grandpa and Grandma Meier were here to see it and I think the whole neighborhood heard us cheer when he just stood up and started walking!
Going from this...
...to this can leave a few marks (notice the bruises on his forhead - poor kid)...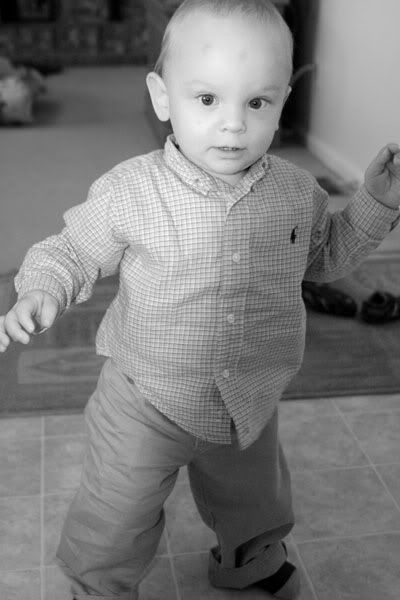 ...and it takes a lot of concentration which can turn you into...