MORE than you ever wanted to know about our family's December...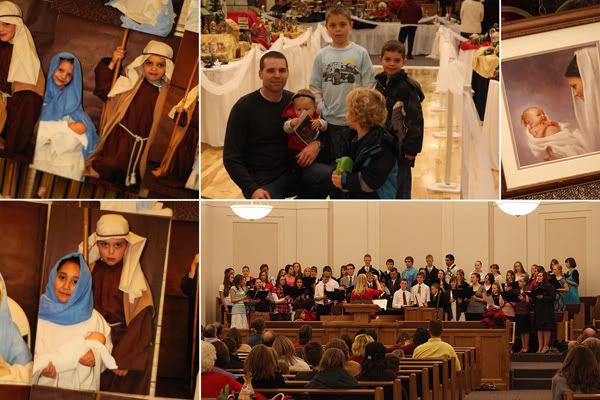 We started the month off right - getting in the mood for Christmas at our Stake's creche. This year was a little extra neat for the kids because they were excited to show us the pictures of them dressed up as Joseph. Also, the girls I teach at church (the mia-maids) were singing in the chior...I feel like they're my own and I was proud of them.
Landon, for some reason, was OBSESSED with the idea of stringing popcorn for our tree. We got a real one this year (of course, that day I forgot the camera but we had so fun picking it out and throwing snowballs at eachother!), maybe that's why. I was sick of all my cheap tree decorations anyway, so I threw everything away (except the ornaments we've been collecting for the kids for the past 8 years) and set out to decorate our tree "the old fashioned way". We spent a night stringing popcorn and cranberries while we watched "Enchanted".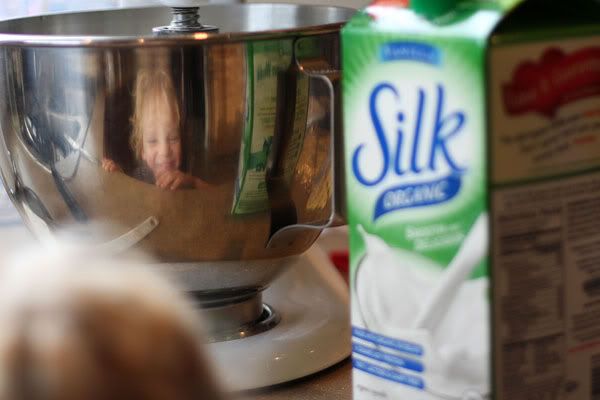 We spent DAYS making BATCHES of different cookies. After Austin's allergy reactions at Thanksgiving, and a few reactions at Christmas parties earlier in December, I was determined to keep him safe. We froze bags of cookies and took them with us to all our parties, his class party, and our trip to Utah.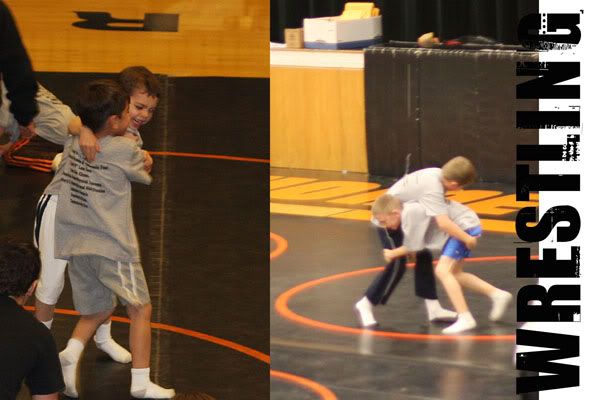 The kids had wrestling most nights the first 2 1/2 weeks of December. The boys love it because the High School wrestling team coaches them - so they get two on one coaching. Plus, Cameron wrestled in high school so they all practice at night after he gets home from work.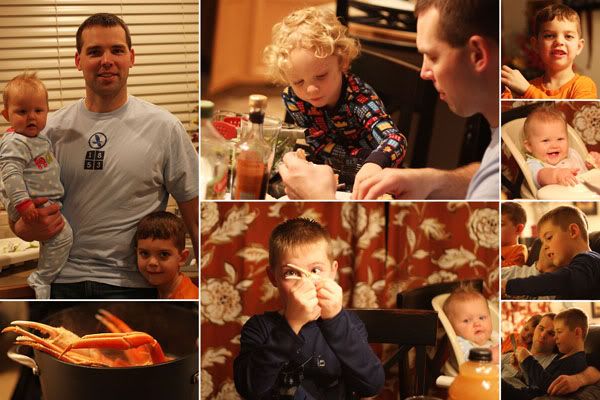 Our Christmas Eve was everything Christmas Eve should be...minus the grandmas and grandpas... it was peacful, cheerful, and fun. I cooked crab, rolls and baked potatoes, Landon made pistachio pudding, we had green salad and cranberry salad too - "a FEAST", Austin kept saying.
We ate, the kids opened their Christmas PJ's, we watched the Nativity, and we finished our 12 days of Christmas stories (I wrapped 12 pictures and scripture stories of Jesus' life from the Bible. Each night one of the boys opened one and we talked about ways we could be more Christ-like and the reasons Christ was born. Some nights the boys were crazy and barely listened but other nights we had a good discussion and they seemed to really catch on to what we were trying to teach. At any rate, it brought us together at the end of the night to have a little family time.)
Christmas Morning was our most christmasy-magical Christmas morning yet. Landon kept telling my how happy he was, "and not just because of my presents, Mom, it's just such a good day!" Ella slept through our morning present-opening so we saved her stuff to open when we got to Utah that night. The kids were so happy and grateful for everything they got. And they were so excited to give eachother the little things they bought at their school store. They each got two gifts from Santa and three from us, plus each boy got motorcycle goggles and helmets to go with...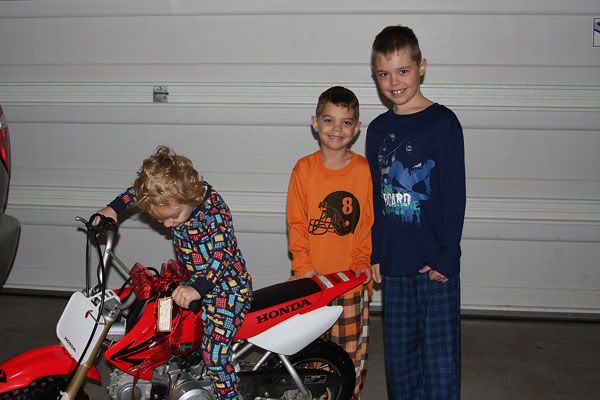 ...the motorcyle! We only got one for them to share. Landon's about to grow out of this size and Isaac is growing into it, so I'm sure our motorcycle collection will grow as time goes by - especially when we are done moving with the Air Force (when you know you're moving again soon, less is more, I say ;) )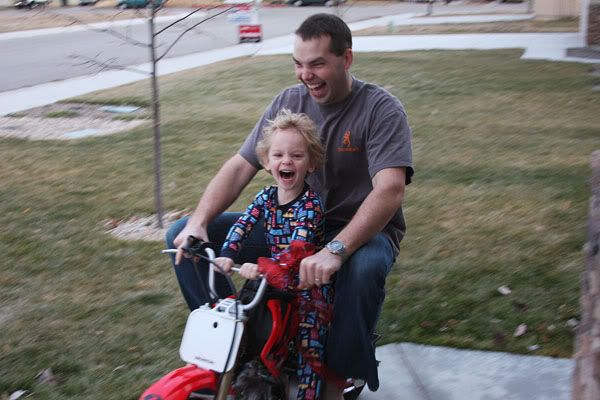 They took rides right away. Cameron was as happy as they were - he is an awesome "boy-dad". I love how he really knows how to have fun and it's contagious for the kids.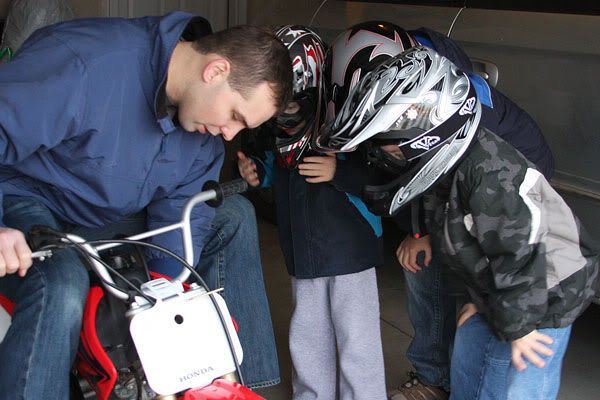 When they got too cold they ran in the house, got dressed, and went right back out.
While I made French Toast the boys rode around the neighborhood - if anyone was still asleep I'm sure they weren't for long.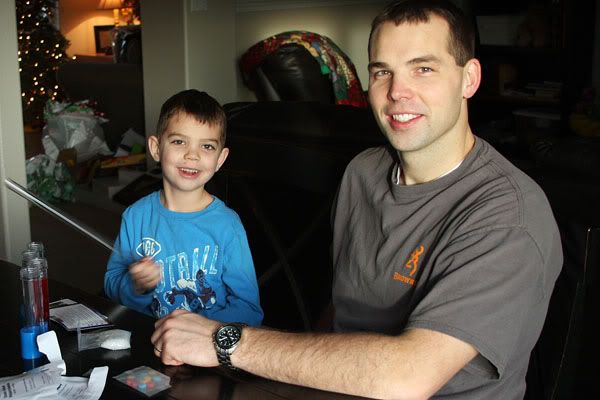 We took a little more time to play with some of the other stuff the kids got. Then we booked it to clean up a little, pack the cars (yes I said cars - we drove the van and the truck 'cause we had Cameron's snowmobile and a bunch of other stuff, crayZ) and take off for Utah.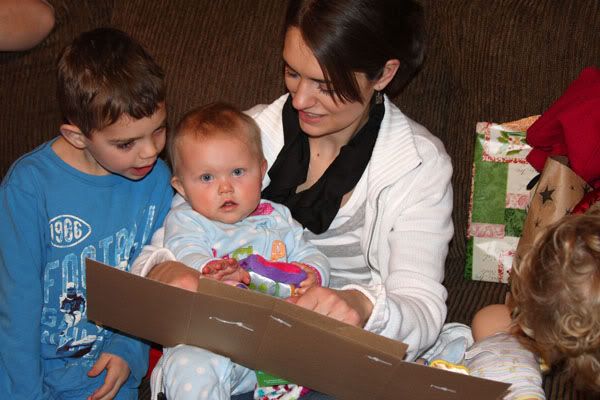 We got to my parents house and opened even MORE presents! Ella got to finally have her first Christmas. The kids had a great time with the things they got. We ate more and hung out.
We spent the rest of the week with our family. Cameron took a couple days to snowmobile with his dad and brother... and my dad too. We had a cousin gift exchange with the Perigo cousins. We "forced" ourselves to play cards a couple times. Stayed up way too late talking and laughing with Steph and Jared. We saw Tangled, went shopping, ate at our favorite places. Grandma Perigo spent at least 2 hours playing games with Austin. We spent a day with Grandma Meier, played with cousins, the kids told her they were hungry the second we walked in the door, lost her TV remote, ate her bannana bread, probably drove her her crazy! We went down to Spanish Fork and picked up a cow (litterally - it was butchered! we went in on it with Cameron's siblings and parents) and while we were there we visited with Grandma Ruth and Cameron's aunt and uncle. We got sick, and everyone else sick, so we spent some time resting. We had so much fun I didn't even take time to take pictures. These were the only ones I took the whole week.
...and THAT officially wraps up 2010...