The kids met their "AR" goals for the quarter so they got to dress up in their favorite sports team gear. Landon was beyond sad that he didn't have an Iowa shirt that still fit him. "Can't we go get one?" well, no...Mountain Home's Walmart doesn't sell Iowa shirts. So I told him to wear his AirForce shirt (he didn't have a Utah shirt that fit him either) and I would paint his face for Iowa.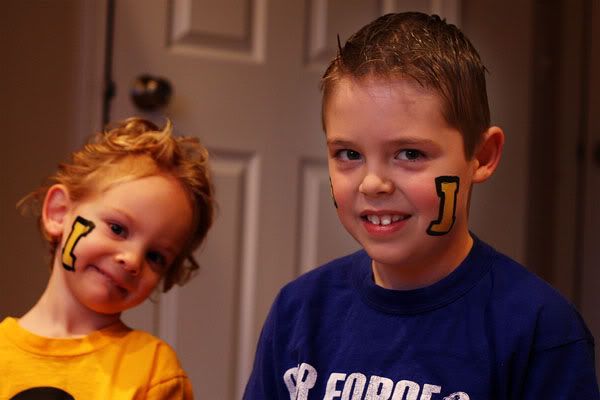 An artist, I'm NOT. But, the little stencil I made turned out okay.
And it satisfied Landon's desire to wear all things Hawkeye. Except, when he got home from school and told me he was FURIOUS because "everyone" kept asking him why he was wearing an Idaho Vandels "I" with a Boise State Bronco's shirt. Landon said he had to point to the Tigerhawk and say, "it's Iowa!" and point to his shirt and say, "it's an AirForce shirt!" "don't they know how to read, Mom?!"
...Still I think he was happy to have his face painted.
Isaac and Austin wore their Iowa shirts too. Austin wanted to wait until JUST before his afternoon Kindergarten class to paint his face, "so it doesn't scratch off, Mom." {The lighting in my kitchen is much better at 11:45 than it was at 8:00 that morning.}