To find the perfect Christmas tree you need to gather a bunch of great friends. Then caravan up to the mountains at 9300 ft. Next you need to buy a permit to cut down a tree. Then you will drive along the curvy roads, find the perfect spot on the mountain, pull on your snow gear and get hiking.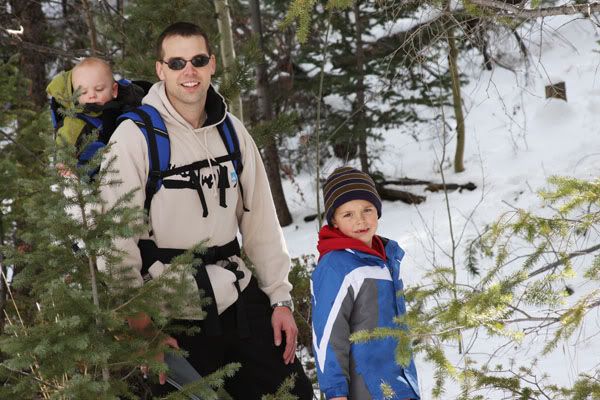 After a good hike and a few good prospects (the kids wanted every tree they saw, practically) the kids will jump in the back of a truck (a friend's highly coveted - by Cameron - Ford F350) and eat another friends "top secret" (*wink wink*) banana bread recipe - so yummy. The parents will have to hoof it to another area of the mountain while the kids enjoy a fun truck ride.
You will have to hike a little more but soon you will find it! It may look a little like "Charlie Brown's" tree but it does fit perfectly in our family room. And lets face it really no home grown tree from the mountain is going to look like it came from a Christmas tree farm. But that's the whole point, right?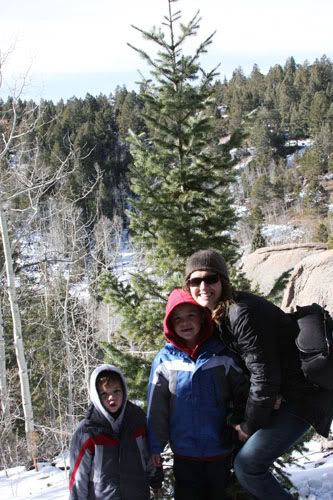 You will have to take a picture of it in its natural habitat before cutting it down. But don't worry, the Forest Rangers said by cutting down the smaller trees we are actually helping them out by thinning out the forest a little so the bigger trees can grow stronger.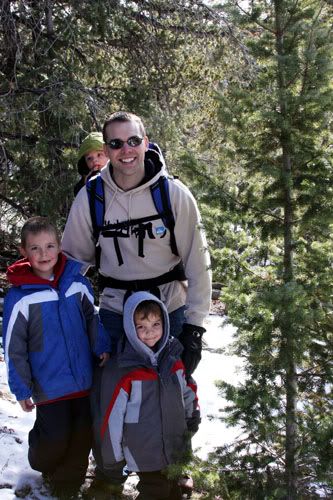 After you hike your tree back to the truck you will definitely need some hot chocolate. It will taste so good and warm you right up. You will be so happy a friend thought to bring a BIG pot of it and a camp stove to warm it up on.
You may think your trip through the mountains is over but you will be delighted when the Dad's start a snowball fight with the kids. Dad's will loose of course! They are incredibly outnumbered, in our case 3 Dads to 9 kids (2 one year olds didn't participate much in the snowball fight!)
Landon liked it a little more than Austin, but Austin did have a blast running around through the snow.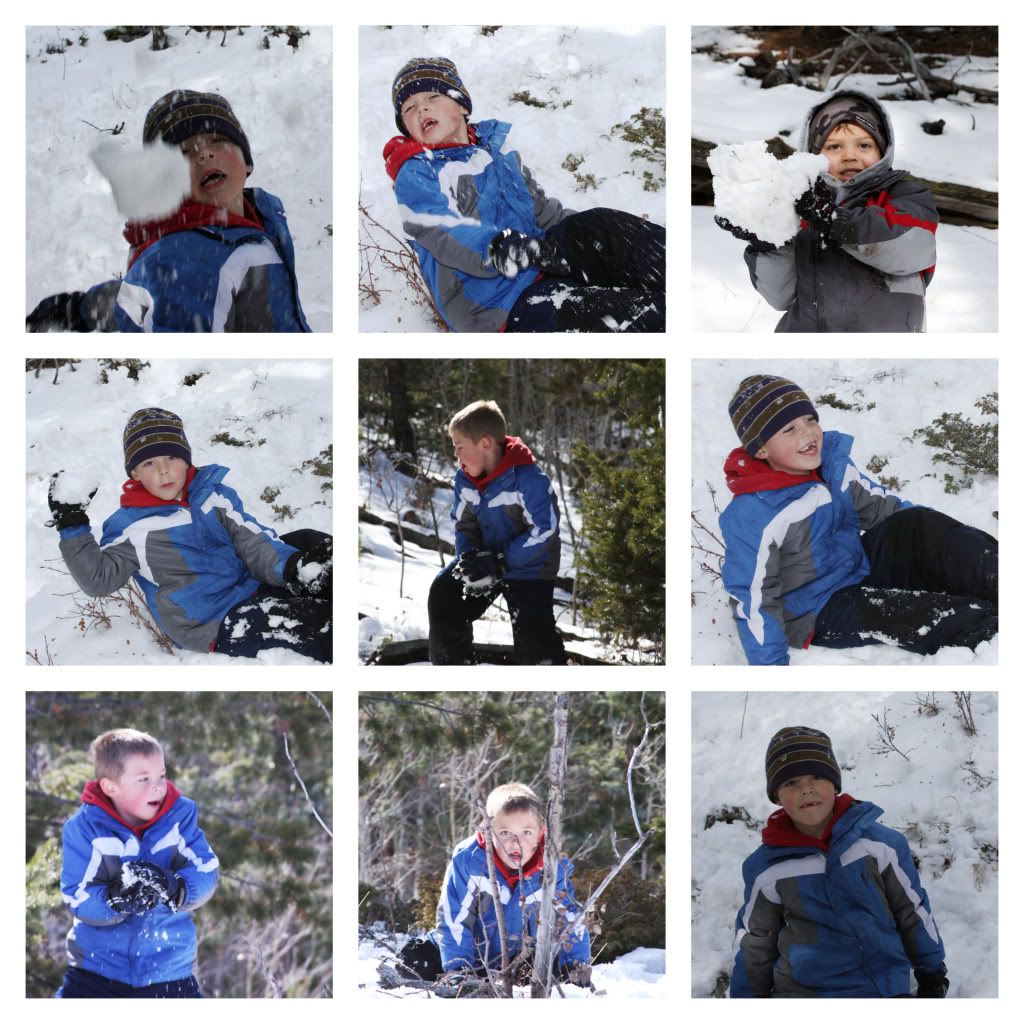 You will have to cuddle your littlest guy and then you will be off onto the next leg of your mountain journey.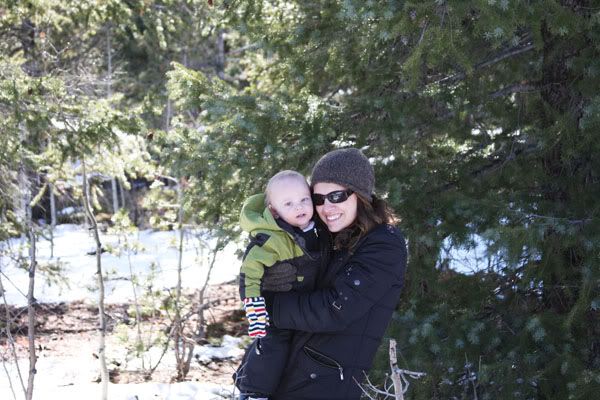 SLEDDING!
This is the way Isaac did it. Sitting right on his bum and scooting down the hill - such concentration!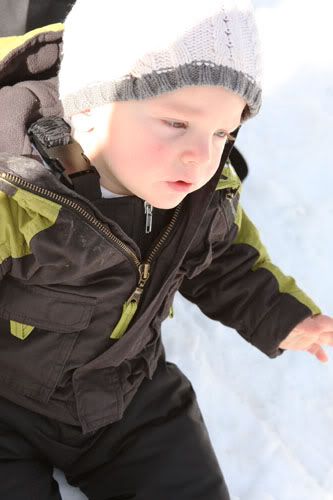 Austin and his friend Heber.
Cameron is such a great Dad!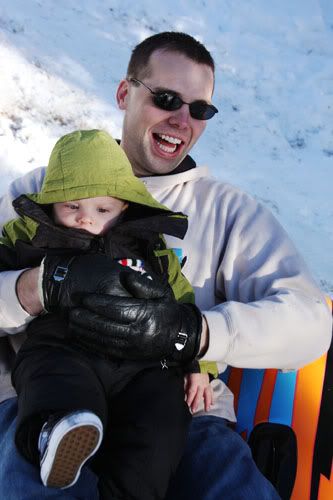 And this is Landon zooming past laying sideways on the tube. Seriously, pure happiness. Is it the brillance of his idea to lay sidewaysand go down head first or the thrill of the hill? Who knows but you can see just how much fun he was having.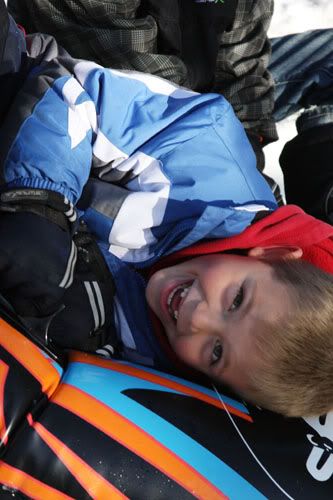 And the last thing you will have to do after your long day is fall asleep in the car on the way home unless you are the driver - then you will have to CONCENTRATE because you will take a road with a sign at the top saying, "Road not maintained. Travel not advised." You will assure your wife that you would never put your family in danger. 4 miles down the road, when turning around is a bit impossible you will wonder out loud if you made the right choice. You will make it safely to the bottom but at the end you will say, "I will never do that again."
We had such a BLAST picking out our Christmas tree. We love being outside and it was great hiking around looking for the best tree on the mountain.