I saw an Ellen episode (kids napping+folding clothes=
whatever's
on TV at the moment) in which Ellen joked about how when your young you only give gifts to your parents and maybe your siblings and then as you get older you have to give more and more gifts. She joked about how she pays people to buy presents for everyone in her life and then should she pay other people to buy presents for them? Like, the article I read in Parents magazine about what to give to your mail carrier and garbage man - um, have you ever met your garbage man?! Anyway, this week I have finished getting all the presents together and ready to give out. It has been one busy week, that's for sure. I completely understand what Ellen was talking about.
First things first I got all our
Christmas
cards out. That was a big task right there. But I have loved getting cards from friends. Christmas cards are really one of my favorite Christmas traditions.
I made cookies three times this week for fun
activities
we went to: The church Christmas party, a work Christmas party, and a cookie exchange with friends... plus I made extra for some neighbors I didn't have enough jars of Russian Tea for. I made these cute trees plus Candy Cane Pinwheels and Almond Butter cookies (my new favorite)
Speaking of Russian Tea, a lot asked for the recipe:
2 C Tang (powdered
orange
-flavored drink mix)
3 ounces powdered lemonade mix
1/3 C sugar
1 heaping tsp. cinnamon
1/2 tsp. ground cloves
Mix together and store in an airtight container. Add 3 heaping tsp. of mix to one cup of hot water for one serving.
I made these cute candle holders for the kids' teachers and the people I visit teach
These are all the presents for our families. Cousins, Grandparents, Parents, Siblings - none of the presents under the tree are for anyone that actually lives in this house!
And speaking of presents... Here's some for Cameron because HE TURNED 30!
Wednesday
was Cam's birthday and this was waiting for him when he got home from work. A stress ball (just for fun) from Isaac, a battery-free flashlight for the car from Austin, two shirts from Landon, and a sweater he wanted from me.
We celebrated by going to dinner, sans kids, at Olive Garden. After we picked up the kids we came home to open the presents and eat Cameron's favorite Double Layer Key Lime Pie (Kasey, I am forever indebted to you for that recipe because it is by far Cameron's favorite dessert!)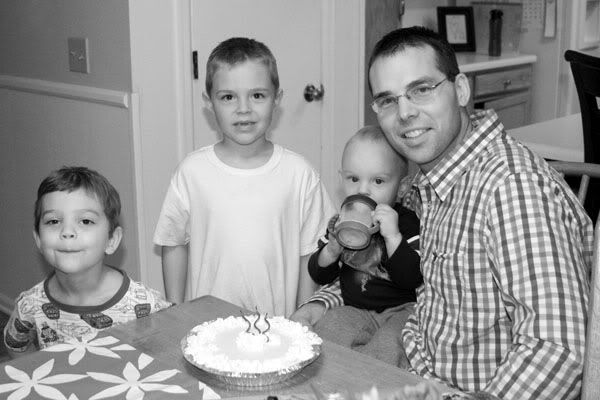 Happy Happy Birthday, Cameron. We love ya!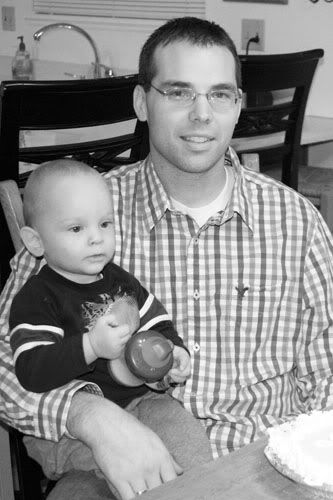 Don't let Ellen fool you. Giving really is more fun than
receiving
. It has been so fun thinking about the people in our lives and trying to find just the right thing that will make them smile. And here's wishing you a Merry and Bright Christmas!