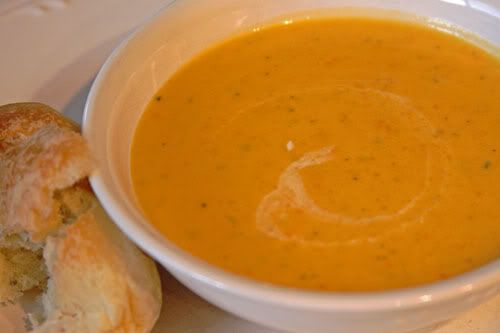 We are all enjoying a little more variety in our diet around here. Austin, especially. The news that he had outgrown hi milk allergy couldn't have come at a better time. This week we've had two pizza parties for soccer and we have another one tomorrow for primary.
We wanted to start him on milk slowly, but how can you argue with a kid that says, "the doctor told me I could have milk." So after the first pizza party and four pieces of cheese pizza we watched Austin closely for some sign of lactose intolerance. When there were no stomach-aches we let him dig in. Now I can cook all those things I've been wanting to but couldn't (Zac is doing fine with milk now too!!). Like this:
2 TBS butter
1 small onion, chopped
2 stalks celery, chopped
1 medium carrot, chopped
2 medium potatoes, cubed
1 medium butternut squash - peeled, seeded, and cubed (hint: microwave for 2 minutes to make cutting easier)
1 qt. chicken stock
1 pt. heavy cream
salt and pepper to taste
Kendra's addition: 1 TBS Italian seasoning and 5 shots Tabassco (gives it the tiniest kick) and two bay leaves
Melt the butter in a large pot, and cook the onion, celery, carrot, potatoes, and squash 5 minutes, or until lightly browned. Pour in chicken stock and seasonings. Bring to a boil. Reduce heat to low, cover pot, and simmer 40 minutes, or until all vegetables are tender.
Remove bay leaves. Transfer the soup to a blender, and blend until smooth. Return to pot, and mix in cream to attain desired consistency. Season with more salt and pepper. Serve with crusty bread or salty crackers.