This weekend was an adventure to say the least... We had SO MUCH FUN! All the peeps out there who thought I was crazy for taking my three kiddos on an eight and a half hour (10 with stops) car ride to Grandma and Grandpas house should have had more faith. The kids were totally amazing. Not one problem (aside from the guy who flashed me*) happened on the car ride there or back. My kids are world class travelors.
Seeing Grandmas and Grandpas definitely cures all the ailes of the world - at least until you get home!
We spent one morning picking out Halloween costumes and slathering the kids with tattoos at the shop my mom is managing this season. FUN! The kids loved it. You can see how much they liked their tattoos. Landon wanted to make sure his were in the picture. Shout out to Mom: You've done an awesome job with the store and we all LOVE our costumes. Thanks
We woke up to eight inches of snow on Sunday morning. Who would've thought October 12 - the first snow of the season and a big one. The kids bundled in their JACKETS (no coats - did I think it would snow? of course not) and put socks on their hands and went sledding in my parents back yard. Austin, especially, would not rest until he got to go sledding. No pictures, where was I?! Oh yeah taking a break...
yes, even I got a break so THANK YOU Sasha and Alina, for playing with the boys constently; we're having withdrawls right now. (by the way I even got to get my hair cut which I've needed since we moved to Colorado so Mom, Dad and girls - THANK YOU for taking care of the rascals)
We spent time with this macho stud that I love. My bro. Jay-ed (that's how Austin pronounces his name: Jared). He is such a cutie and Stephanie is really awesome too. Thanks for coming back on Sunday to spend some time with us. It's just not the same without you guys.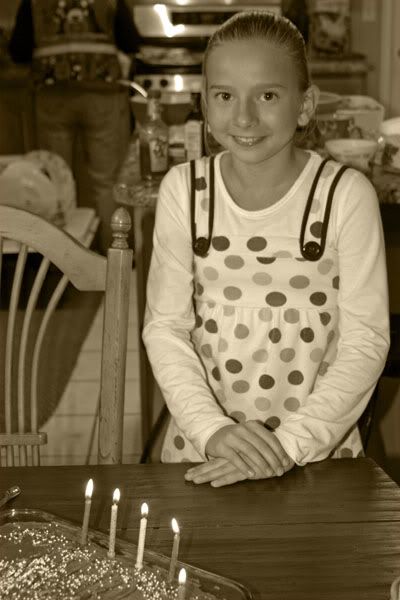 Celebrating Alinskas birthday was fun too. Happy Birthday 11 year old. We love ya! A good excuse to see everyone. Grandma Meier (MY grandma, I can't wait until November when you and Grandpa will be here!), Kim (my favorite aunt - at least that's what she tells me I always say yes! You know I love them all, Kim!!), and the rest of the family, along with Cameron's parents. Good food, good conversation, fun games, memories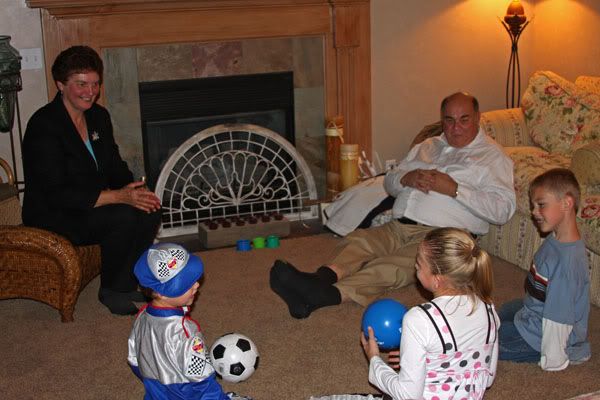 Grandma and Grandpa Perigo even got to come to dinner on Sunday. They played ball after dinner and then we all played a HILLARIOUS game - the Dictionary Game; if you haven't heard of it google it - it's perfect for a crowd and oh so funny...
I love being back home. I think Landon put it best when he told me Friday morning, "I love it here. I can do whatever I want. I feel so... FREE..." Yeah, Landon me too.
*I pulled over to let Austin go "potty" on the side of the road and after he was buckled up I started to make a u-turn to get back on the freeway. I hadn't noticed another car full of grungy men had pulled over as well, obviously for the same reason. As I did my 4-point turn to turn around I had to watch one of the guys peeing right in front of me. Not that I wanted to watch; he was standing right in my line of vision. Gross!