Seriously? 8 months have come and gone since Ella was born? It's going so fast. And it is so fun watching her little personality emerge.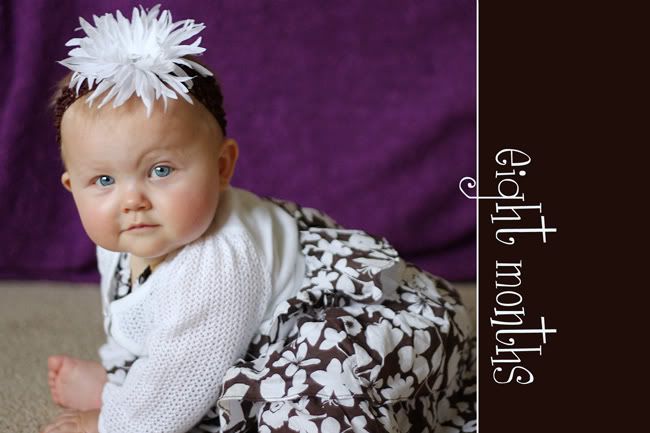 Ella is still very content to sit on the floor and play with toys. She has mastered the skill of going from sitting to laying on her tummy to reach what she wants. It will be good once she can get back up to sitting, 'cause that frustrates her a lot. Her new favorite toys are stacking blocks and things with tags or some kind of string to pull.
She LOVES books and during story time with the boys she has to have her own book or she will do whatever she can to steal the one we're reading.

She loves looking at herself in the mirror. Girl thing or baby thing? Only time will tell.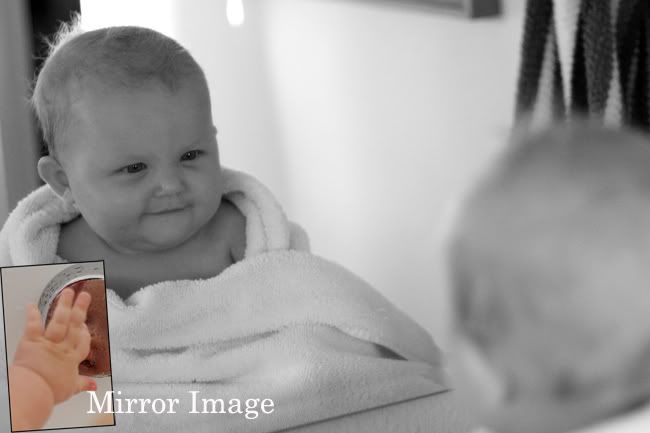 She is turning into a giggler. She will giggle if you look at her just the right way. Or if you laugh she laughs right back. The more people laughing the bigger her laugh is. She giggles at Austin the most. She giggles when she's tired and I give her blankie to her.
She is a squealer too. She squeals with delight (like in this picture), but she squeals when things aren't happy in her world too. Mostly, when she needs her diaper changed or she's hungry.
And, the girl can babble. All my kids have been good babblers, and they still are, actually. You should hear us at dinner time - 4 babblers all together at the same time - some speaking actual words, others not, but all of them speaking nonsense and all of them wanting to be heard. Phew! Never realized how noisy a big family would be!!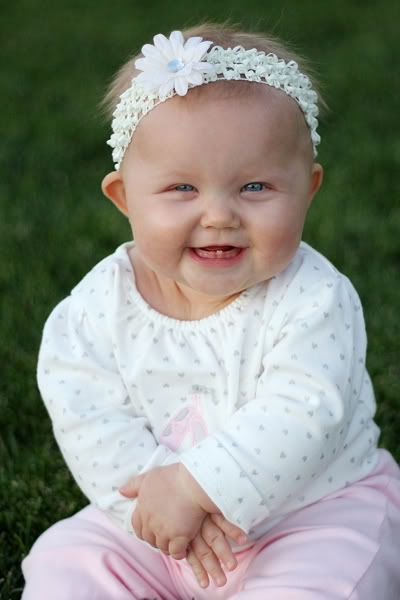 Her most recent new trick is waving. She's been waving, "bye-bye" for about a week now. Oh so cute.