I've never made Gingerbread Cookies before ... ever. SO, I thought I'd give it a try this year and we had a FUN, FUN Family Night last night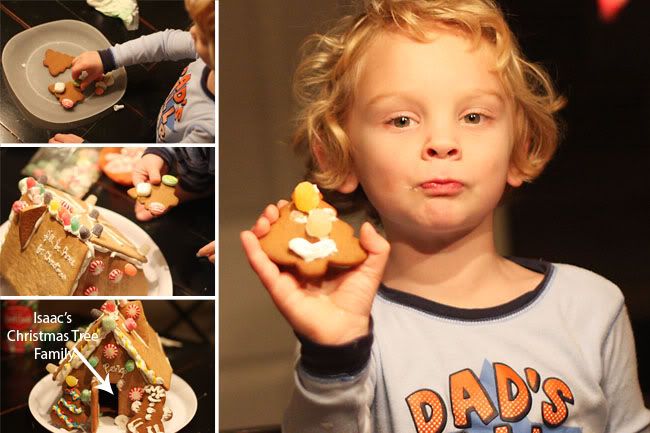 When I pulled out the cookie cutters Isaac saw the Christmas tree and decided he wanted to make a family of trees instead of "men". Then, as he decorated them, he dubbed them aliens! He put them all in the gingerbread house, instead of keeping them to eat.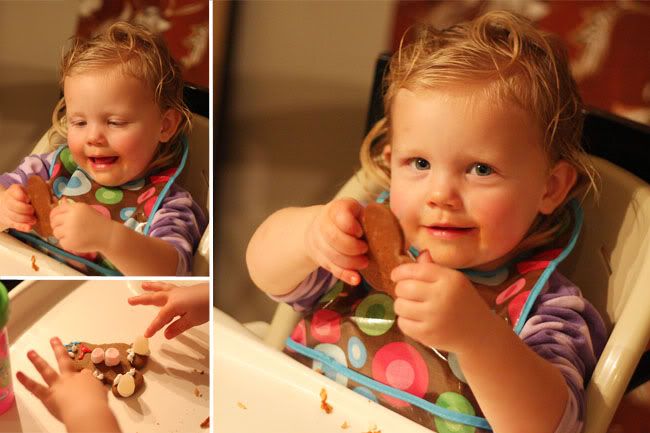 Ella loved her cookies! I gave her a decorated one and she just stared at it for a while saying, "head! eyes! mouth!" such a little cutie. She especially loved putting on the gumdrops and marshmallows
Austin also decided not to make men, instead he used the snow man cookie cutter and made a snow man family. He decorated his cookies like his "future" family. With the dad as a police man, married to a beautiful woman (his words!) with three daughters. The baby was suspiciously dressed like a Star Wars Clone Trooper (I didn't get a picture but it was pretty funny!) He is quite certain that this is the way his family will turn out...I'm okay with it as long as the "beautiful woman" loves me like a second mom and I get to babysit those granddaughters all the time!! Ha!
Cameron's a pretty good cookie decorator too! I was cracking up at the "bite here" cookie. It was nice doing something like this together because so often either I or Cameron are gone in the evenings, thanks to work and church. It's amazing how relaxing decorating a few cookies can be!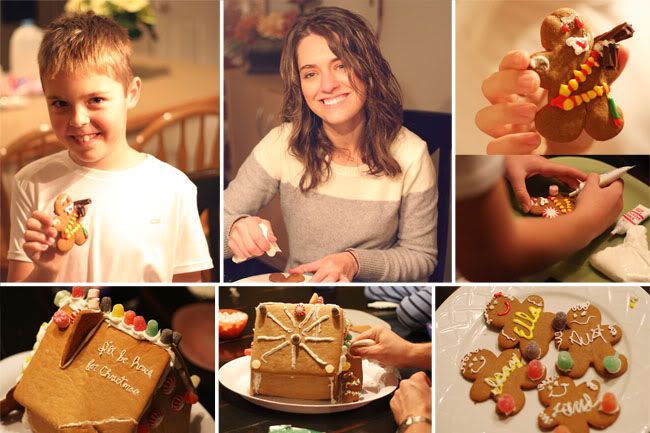 As for, Land-o Commando, you can see why he has that nick-name! His little "Gingy" had body armour and a bazooka. Landon was especially excited to take it to school today and show his friends. He is hilarious! He worked so hard on it that he didn't have time to decorate anything else. He just ate the rest of his cookies without frosting (which I think is actually the best way to eat them too!) And I tried out my skills - which are not so great! Landon and Austin were a little dissapointed when they noticed I couldn't fit their whole names on a cookie. I tried, at least! And I'm blaming it on the frosting getting hard by the time I did my cookies - that's my story and I'm sticking to it!!