Birthday Season marks the begining of the busiest time of year for us. It begins with August 24 on Austin's birthday. This year it actually started on the 23rd because we celebrated a day early in Utah with all the Grandmas and Grandpas (but that is for a soon-to-come post). My birthday is the 31st and Isaac's birthday marks the begining of fall on September 6. With fall comes school and sports. This year it will be soccer, wrestling, swim team, and basketball. The end of soccer means Halloween and you all know what that means, Thanksgiving and Christmas. Throw in another birthday - Cameron's on December 17 - and WoWza! It's non-stop fun! Then a deep breath and sigh of relief with the New Year.
I just got put in Young Women's at church as the Mia Maid Advisor and updated my calander for the next two months. Between young women's activities (including weekend firesides and youth dances that I'm "supposed" to go to) and soccer practices and games our family only has an average of ONE night a week with no commitments. CA-RAZY.... please wish me luck!
If you feel like celebrating too, try these. I really don't like cake mixes. They all have the same unmistakable flavor but in these recipes they're great and you really can't tell they're made with cake mixes. (FYI: Isaac's cake will
not
from a mix - carrot cake - and I, personally, can't wait!)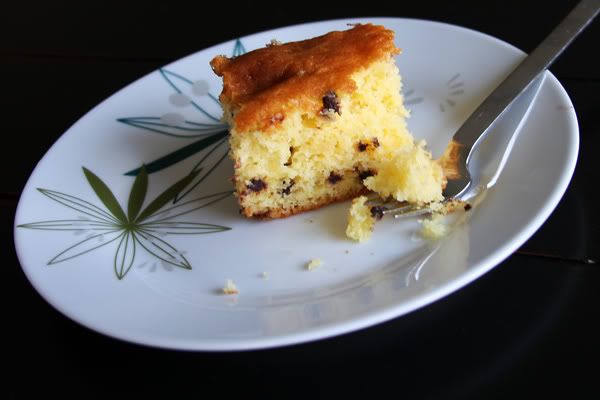 Chocolate Chip Cream Cheese Cake:
1 box white cake mix (I use the butter recipe cake mix by Pillsberry - can't beat imitation butter flavoring!)
1 small box instant cheese cake flavor pudding (you can use vanilla)
1 (8 oz) package cream cheese
1/2 C oil
1/2 C warm water
4 eggs
1 (12 oz) package chocolate chips (I only use half the bag)
Chocolate frosting, if desired
Mix cream cheese until smooth. Add the rest of the ingredients except chocolate chips and frosting. Mix 2 to 3 minutes. Add chocolate chips. Pour into greased Bundt or 9x13 pan. Bake at 350 for 50 min (Bundt pan) or 35-40 min (9x13 pan). Frost cool cake if desired.
"Soda Method" Cake
(dense, chewy, and really really easy)
1 box any flavor cake mix (I used Funfetti for Austin's cup cakes)
12 oz any flavor soda (I used ginger ale)
Frosting or Whip Cream for topping
Preheat oven to 350. Mix cake mix and soda until very few lumps are left in the batter. Don't overmix. Pour into greased cake pan or lined muffin tin. Bake immediately according to package directions. Cake may need up to five minutes longer but check for doneness when the package says. Frost cool cake. For easy removal of cupcake liners refrigerate cupcakes overnight before serving (I think it tastes better refrigerated too).
Hints: You can use any flavor combo - the ones I've tried: Diet cherry coke with chocolate cake mix, Sprite with white cake mix. Ginger Ale might be good with Spice cake mix too, I really liked it with the Funfetti mix.