Yeah, we're all entitled to have a bad day once in a while. It wasn't just the ultrasound appointment - it was that the appointment sort of represented everything that's wrong with living here for me. And it was the final straw. So... I spent the day yesterday as a metophorical "vacuum of gloom" sucking my family into my despair. After the kids went to bed I went through my "checklist" of things that *stink* about living here. While I was rambling on and on I realized that I sounded a little, you know, coo-coo. I ended the conversation with Cameron like this, "I'm obviously not adjusting as well as I want to. But I do have perspective. I know that things are really not
that
bad. I know I have blessings, maybe more than I really deserve. I know how lucky I am to have everything I have. But I am sad. I'm working through it. I'm getting used to things. Things will be fine. I just need to keep my perspective."
So, that's what I'm doing. It's obvious Mountain Home isn't where I want to live for the rest of my life. But it's where I am now. And I still feel strongly about socialized medicine and the rest of yesterday's rampage. And my pregnancy and the hormones and other symptoms (migraines, backaches, and fatigue) that come along with it don't make things easier on me.
But everyday I try a little harder to be more of the person I want to be. I try to be more organized. I try to be more cheerful. I try to block out the things that I hate about being here and focus on the good (I'm sure soon I'll find more good, right?!) Here's what I'm thankful for and the things that give me my perspective in life: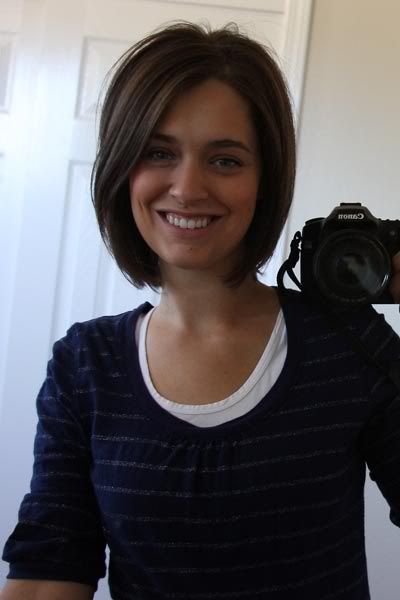 my "Rachel" from Friends haircut finally grew out enough I could cut off the
fringe
that made my mushroom top layers so full. Although, I'm trying to grow my hair out again, I was SO happy to see that inch of pointless fringe fall to the ground. And, (surprise!) I got my hair cut
here.
The girl did a pretty good job, I think.